Welcome to Dutest
Established In 1980, Dutest is one of the first and most experienced third party inspection bodies and suppliers of lifting equipment throughout the UAE.
e - Brochure
Download here!
About Dutest Industries
Dutest is one of the most experienced Third Party Inspection companies throughout the UAE. Established in 1980, our services have extended across an exhaustive list of prestigious clientele. We understand the local market and the growing importance of occupational safety throughout the Middle East and therefore, the requirement to provide top quality goods and services at a competitive price, representing best value to our clients. The implementation of various quality management systems, such as ISO 9001:2012 and ISO/IEC 17020:1998, as well as an international member of the British Standards Institute, the British Safety Council and trade organizations such as IPAF and LEEA as full members demonstrates our commitment to our Ethos.
Products and Services
Dutest has a manufacturing and sales division and a dedicated examination and testing division, each division has clear focus on delivering what our clients require, when they require to the standards they require. This has led to our services being in demand from every industrial sector who procures and uses Wire Ropes, Rigging hardware, Anchor, Anchor chains, Synthetic Ropes, safety and material handling equipment.
Gripton
Gripton is a U.K.- based, ISO 9001:2015 certified company involved in the manufacturing of high quality lifting equipment. Gripton specialize in controlling all stage of the production process, from sourcing the correct high grade raw materials to delivering an aesthetically pleasing product. All of this is for the sake of providing only the most cost-effective and highest quality lifting equipment in the market.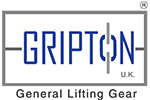 Download Here
Dillon
Dillon was founded in 1937 by William C. Dillon in the USA as a supplier of cable tensioning products to the armed forces. The company grew rapidly, expanded its offering and today has a comprehensive range of force measurement devices. These products are sold into a wide variety of markets worldwide including lifting applications, telecommunications, aviation, military, public utilities, offshore oil/gas, Shipping and lift maintenance.
Download Here